Have you been wanting to spruce up your home with more demons? Well, now's your chance!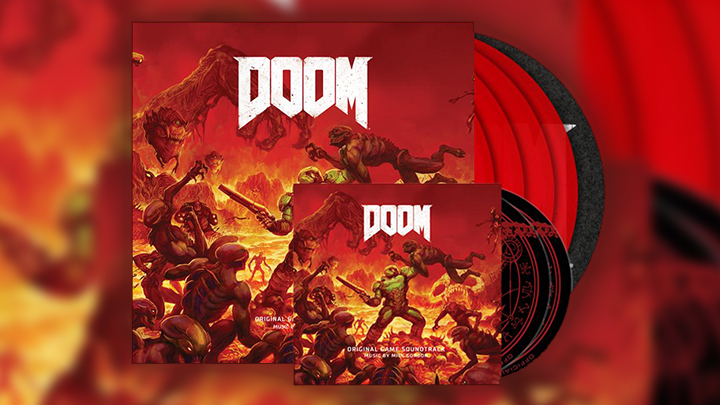 Album:
DOOM® (Original Game Soundtrack)
Artist:
Mick Gordon
Shipping Estimate:
July 2018
Product Information: 
Full DOOM Soundtrack (31 tracks)
X4 180g Red Vinyl
Deluxe Double Hard-Slipcase
X4 Full Printed Deluxe Inner Spined Sleeves
Custom DOOM Turntable Slipmat
Double CD Including Full Soundtrack in Deluxe Triple Gatefold Sleeve
……………………………..
Laced Records, in partnership with Bethesda Softworks®, a ZeniMax® Media company and id Software® bring you the DOOM (Original Game Soundtrack).
Cut at the world famous Abbey Road Studios and "Best Music" winner at The Game Awards 2016, the DOOM (Original Game Soundtrack) brings the trademark pulse-pounding and demon-slaying audio experience to fans for the first time on physical disc.
Composed by long-time Bethesda collaborator Mick Gordon, his intense vision channels industrial metal to mirror DOOM's trademark fast and powerful first-person shooter gameplay across 31 synth and metal-filled tracks, spanning over two hours of runtime.
……………………………..
*All images shown here are mock-ups.*
……………………………..
TRACK-LISTING:
Disc 1 – Side A
1. I. DOGMA
2. Rip & Tear
3. At Doom's Gate
4. Rust, Dust & Guts
5. II. DEMIGOD

Disc 1 – Side B
6. Hellwalker
7. Authorization; Olivia Pierce
8. Flesh & Metal
9. Impure Spectrum
Disc 2 – Side A
10. Ties That Bind
11. BFG Division
12. Residual
13. Argent Energy
Disc 2 – Side B
14. Harbinger
15. Biowaves
16. Olivia's Doom (Chad Mossholder Remix)
Disc 3 – Side A
17. Transistor Fist
18. Dr. Samuel Hayden
19. Cyberdemon
Disc 3 – Side B
20. Incantation
21. III. DAKHMA
22. Damnation
23. The Stench
Disc 4 – Side A
24. UAC Report File; SHTO36U3
25. Death & Exhale
26. SkullHacker
27. Lazarus Waves
Disc 4 – Side B
28. VEGA Core
29. 6_idkill.vega.cih (Chris Hite Remix)
30. Mastermind
31. IV. DOOM
– SHIPPING INFO –
This item will ship from the US via USPS for all domestic US orders.
© 2018 Bethesda Softworks LLC, a ZeniMax Media company. DOOM and related logos are registered trademarks or trademarks of id Software LLC in the U.S. and/or other countries. All Rights Reserved.